Jack Canfield "Chicken Soup For The Soul" interviews
PAK Founder, Lyle Benjamin on Success TV
Planned Acts Explained
Planned Acts of Kindness is a global outreach program where people wake up and on their cell phone, computer and devices there is a new daily planned act of kindness that they can do with their family, friends, co-workers and in their community.
The goal is to have tens of millions of people around the country, hundreds of millions of people around the world, waking up and doing the same act of kindness on the same day, and unleashing that much powerful, positive energy in the world.
Planned Acts of Kindness works to unite people from all walks of life by giving them shared goals and objectives that work for the betterment of kids, people and the planet. Our Vision is to have millions of people around the world working together as one to help solve the problems that confront Quality of Life for All on our planet.
The Karma Club is a community of people that perform Planned Acts of Kindness. Membership is 100% free, so become a member today & start changing the world one PAK at a time! To get started first register a Planned Acts of Kindness account and then you can join the Karma Club and start to make more of an impact in today's world.
The Daily PAKs are the creation of program founder, Lyle Benjamin. Each day you given a Planned Act of Kindness that you can carry out any time during the day and then share your experience on social media to raise awareness. You will learn more once you are a member of PAK and The Karma Club. Be sure to join today!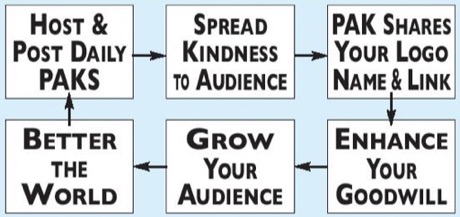 If you are a Website owner and want to learn more
If you are not a Website Owner you can still participate by joining and sharing the Daily PAK on Social Media
"One Plant-One People: The Fight for Survival of the Human Race" is committed to combating the six deadly tipping points that threaten the health & well-being of billions.
The World Is in Crisis: Climate Change, Pollution, Overpopulation, Pandemics, War & Terrorism Are You Frustrated, Scared, Angry at the Direction Our Country — the Planet — Is Headed?
In 10-20 Years the Tipping Points Won't Matter … They Will Have Already Passed. It's More than a Game When Billions of Lives Are at Risk!
Become a Part of the Solution: Join the Karma Revolution & Pass It On. What You Do Today Matters! The Time to Act Is Now!
BATTLE CLIMATE CHANGE, POLLUTION, PANDEMICS, WAR & TERRORISM IN A RACE AGAINST THE TIPPING POINTS OF TIME!
COMPLETE AGAINST FACTIONS ACTIVELY WORKING TO DEFEAT YOU:
PRO EARTHERS
PRO TREKKIES
PRO TECHIES
PRO CAPITAS
Join Planned Acts of Kindness & use Twitter to Spread the Word.
How can you help make a positive change in the lives of others?
The answer is simple: It's one word, only three letters. Act. That's all it takes. Read though our website and learn how small Planned Acts of Kindness, and our other programs, can make a difference as we strive for "Quality of Life for All."
Learn how the positive energy you put out in the world through your actions … can also come back to help you, your family and your future.
And all you have to do to get started is follow one small word, and one simple mantra: "Get Involved. Get Informed. Get Going."
PLANNED ACTS & KARMA
OUR MISSION & OUR VISION:
A GLOBAL CRISIS
News
For Immediate Release:
Contact:  Ellisen Wang
16 Things Press
212 213-0257 or 917 361-1397
The Data Is In, We Have Less Than 20 Years To Fix Our Global
Problems Or The World As We Know It Will Come To An End

If you listen to the pundits and prognosticators, the world is poised on the edge of a knife …
Scientists have concluded that Climate Change is the biggest threat to our survival
Politicians have concluded that Terrorism is the biggest threat to our survival
Generals have concluded that War is the biggest threat to our survival
Doctors have concluded that a Pandemic is the biggest threat to our survival
Economists have concluded that Overpopulation is the biggest threat to our survival
And what do all these doomsday scenarios have in common? Us. They are all manmade problems that have escalated with the speed of a bullet over the last 100 years. Estimates are that by the year 2035, we will be at a tipping point where our efforts will no longer make a difference.
So now the question is, "What are we going to do about it, if we are going to survive?" We need to make a significant change in our approach to these issues. We can no longer rely on governments, corporations or religious leaders to save us. Whatever we are going to do, we need massive numbers of people around the world on-board, and we need to start now.
The Karma Constitution seeks to unite people from all around the world to act for a common cause with one long-term goal: The survival of the planet. The Constitution forms the foundation of Planned Acts Of Kindness, a global social responsibility program where each day people around the world wake up, and on their cell phones and on their computers, there's a new planned activity they can do with their family, friends, co-workers and community.
Imagine, millions of people around the world doing the same activity on the same day, generating a tremendous amount of positive energy and action around the world. And that's the key, education is not enough to pull us out of our death spiral, we have to take action on what we learn. And to be successful in the long run, we have to have these four key elements:
1) We have to have the desire to turn it around;
2) We have to have the determination to turn it around;
3) We have to be coachable, we have to be willing to listen and learn; and
4) We have to take action on what we learn, and follow a game-plan even though the path may be difficult.
And when people need to take action over a longer time-frame on a particular issue, there is the "Cause of the Month," program because some things are too important for just one day.
The Karma Constitution and Planned Acts of Kindness are the creation of Lyle Benjamin, Executive Director of 16 Things Kids Can Do, a non-profit educational organization that works for the betterment of kids, people, and the planet through a series of books, workshops, programs and activities all designed to help people lead happier, healthier and more successful lives.
In order to get people motivated and engaged over the long-term, Benjamin created The Karma Club, where people can level up each month based achieving milestones in different PAK (Planned Acts of Kindness) tasks. When members level up, they automatically become eligible for that level's rewards given away each day for a month, beginning on the first of each month.
If you're unhappy with the direction your community, your country or the world is heading, you need to become part of the solution: Take the first step now by becoming a member and help spread the message on your social network for people to check out PlannedActs.Org as it works to make the world a better place to live, one PAK at a time.
Take the initiative, become an activist, and "Viva la Revolucion!" Like the PAK T-shirt says, "If you're not part of the solution, then get the Hell off my planet!" #ItsMyPlanet
For more information on how your school, church/temple, non-profit, organization, agency or business can make a difference in your community, please contact Elissen Wang at (212) 213-0257 or email: Support@16ThingsKidsCanDo.Org.
###
"Tipping Points" In The Global Crisis
Stat Sheet
A research sampling of the many factors that can irrevocably change the course of the life on the planet if we don't actively work to reverse the trajectory of the past 100+ years:
Climate Change:  People are losing their homes and businesses, people are dying, and the emotional and financial impact is not only devastating individuals and families, but also entire communities.
14 of the hottest annual temperatures ever recorded have occurred during the last 16 years. l cyclones with higher wind speeds.
Global temperatures began to be systematically recorded 136 years ago. 2016 finished in first place as the hottest year on record.
This decade is shaping up to be even hotter. And, as a consequence, natural disasters are occurring more frequently, causing destruction and loss of life around the globe.
September Arctic sea ice is declining at a rate of 13.3 percent per decade.
97% of researchers believe global warming is happening, and 82% agree that it's strongly linked to human behavior.
Along the U.S. coastline, flooding is now 300% to 900% more frequent than it was 50 years ago.
The actions of humans have caused extinctions of plants and animals for hundreds of years. Now, global warming is taking place 10 times faster than any time in the past 65 million years. Plants and animals will face mass extermination as they fail to adjust.
Pollution:
More than 3 million kids under the age of 5 years die every year due to environmental factors like pollution.
Pollution is one of the biggest killers, affecting more than 100 million worldwide.
More than 1 billion people worldwide don't have access to safe drinking water.
Pollution kills more than 1 million seabirds and 100 million mammals every year.
Oceans are becoming more acidic due to greenhouse emissions from fossil fuel which in turn isharming ocean life and global weather.

Air Pollution:
• 65% of the deaths in Asia and 25% deaths in India are due to air pollution.
• Outdoor air pollution causes more than 3 million deaths annually and suggested that the figure could double by 2050.
• More than 5.5 million people die prematurely every year due to household and outdoor air pollution.
• Chronic obstructive respiratory disease (COPD) that develop due to indoor air pollution is responsible for the death of more than 1 million people every year.
• Governments worldwide need to adopt new energy and air quality policies with an estimated cost of about $4.7 trillion. This may cut air pollution related deaths by more than 3 million deaths per year.

Land Pollution:
• Americans are only 5% of the world population but produce 30% of the waste globally.
• The average American produces 4.5 pounds of garbage per day.
• In China, 2 million miles of land has been destroyed because of solid waste.
• 80% of the world's forests have been destroyed already, and in South Africa 90% of the tropical forest cover has been demolished.
• Americans buy more than 29 million bottles of water every year. Only 13% of these bottles are recycled every year.

Water Pollution:
• The garbage dumped in the ocean every year is roughly around 14 billion pounds. Plastic is the major constituent.
• Over 1.2 trillion gallons of untreated sewage, groundwater, and industrial waste are discharged into U.S. waters annually.
• The U.N. estimates that by 2025, forty-eight nations, with combined populations of 2.8 billion, will face freshwater scarcity.
• According to the World Health Organization, in developing nations 3.2 million children under the age of five die each year as a result of unsafe drinking water and poor sanitation.
• Every 20 seconds, a child dies from a water-related disease. Children in polluted environments often carry about 1,000 parasitic worms in their bodies at any time.
• There are more around 73 various kinds of pesticides in the groundwater, which is used as drinking water.
• More than 100 pesticides in any medium — air, water or soil — can cause birth defects, gene mutation and cancer.
Overpopulation:
Overpopulation is a crisis that cannot be averted. Between 1999 and 2011, global population increased by a billion people. Most of this population increase took place in developing nations where resources are already limited.
The world population is currently growing at a rate of around 1.11% annually. The current average population change is estimated to be at around 80 million per year.
Recent reports show that about 783 million people, or about 10% of the world population, are lacking access to quality drinking water.
Every twenty minutes, the human population grows by over 3,000 people. That's the same amount of time that it takes for another plant or animal species to become entirely extinct.
In the 20th century alone, the worldwide human population has grown from 1.65 billion to 6 billion. Meanwhile, three species are going extinct every hour. 30,000 species per year.
Since 1970, the U.S. population has added more than 100 million residents, about a 50 percent growth rate in fewer than 40 years.
In the US, there are more than 1.43 million unplanned births happening every year.
Pandemic:
Since the first local case of Zika virus was confirmed in Brazil in May 2015, health officials estimate between 440,000 and 1.3 million people have contracted the virus.
When the global population was 450 million in the 1340s, estimates are as many as 200 million people perished from the Bubonic Plague.
During the 1918 flu pandemic, 100 million people were estimated to be killed. Juveniles, elderly and young adults were forced to spend their last days in overcrowded medical camps and hospitals where their deaths were prolonged and painful.
The 2003 SARS epidemic, which killed fewer than 800 people, cost the global economy $54 billion.
June 13, 2015. The Ebola virus spread to more than 27,000 people across ten countries violently killing 11,100 people as their organs rapidly liquefied. Despite the high number of infections, the spread of Ebola remains technically an outbreak.
The Ebola outbreak killed more than 5,000 people before the global community took action. If we aren't ready for an outbreak, we most definitely are not ready for a pandemic. Now, two years later, we still don't have the answers to how it started or how to cure it.
The worldwide pharmaceutical market is a $1 trillion plus industry. Vaccines make up only 3% of it.
The financial toll from a severe flu pandemic could hit $4 trillion.
War:
Over 500,000,000 people have died as a direct result of war violence.
The detonation of just one "small" nuclear weapon would annihilate a 100,000 people in the blink of an eye and condemn tens of thousands to the pain and agony of death by radiation poisoning.
The effect of a large thermonuclear weapon detonated over a major urban city would wipe out millions of people in an instant.
In the event of a nuclear war, 90% of the surviving world's population would likely die from starvation as the world's food crops perish due to climate change.
Terrorism:
The toll of terrorism around the globe has jumped 800% in the past five years.
Nearly 30,000 people per year have been killed by terrorists since 2010. As time progresses, the number of people murdered increases. Terrorists are improving their use of tech and finding new ways to recruit and kill more and more people.
In 2015, a total of 11,774 terrorist attacks occurred worldwide killing 28,300 and injuring more than 35,300 people.
According to professors' Clauset and Woodard, the certainty of a terrorist attack with a death toll greater than 9/11 is at 95%.
Families and communities have been ripped apart and devastated because of the because of the devastation left behind by terrorists. In 2015 alone, the number of terrorist kidnappings and hostage-takings increased to more than 12,100.
The problems in the world are not going to be solved by governments or corporations, but by ordinary people around the world working together with a common purpose and uncommon passion …
Thank you for your interest in our programs, and we look forward to understanding your "Why." Why do you want to make a difference? And, what are you willing to contribute to make that difference happen?
All too often, people talk about problems, but then do nothing themselves to help make the situation better.
Others want to get involved in something meaningful, but find their choices limited to handing out food at a soup kitchen or food bank … while others just walk a few miles once a year.
While all these things are helpful, ask yourself these questions …
• Are the volunteer activities you're doing really significant?
• If you didn't do it, would it still get done?
• Are you unintentionally discriminating against others in what you're doing?
• Are you really impacting the lives of others in a meaningful, long-lasting way?
• Are you able to continuing build on what you're doing to have a greater and greater impact?
• Are you activity affecting your community?
• Are you working on positive change for your country, the planet?
Our social activism club doesn't discriminate in membership acceptance or in who we help. We accept people from all different backgrounds, ages, educational levels, income, religion, gender, country of origin. And we work to help everyone.
There are only four things you have to have in order to be successful in our organization:
1) Desire
2) Determination
3) Coachability/Team Player
4) Action
So join us and work on these amazing programs:
Help us get the President to Declare August "National Kids Month"
Youth &Adult Educational Programs
Social Responsibility School & Community Clubs
Community Learn & Earn Programs
Special Event Marketing, PR, Coordination, Management
Fundraising, Grants, Sponsorships & Partnerships
Much Much More!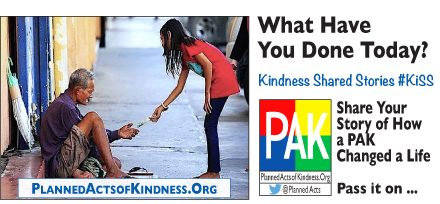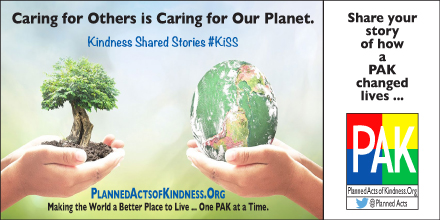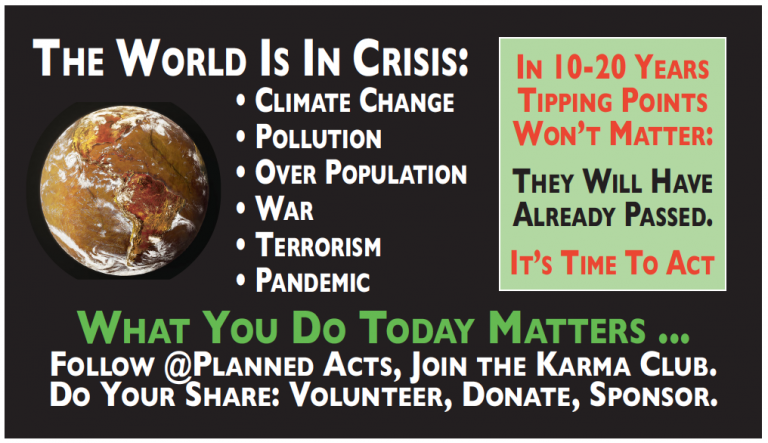 You can submit a Planned Acts of Kindness Pledge or PAK Suggestion by sharing it on Twitter, Facebook or by sending it to us in an email.
Try it and let the world know about your kind acts and ideas for others to join in.
Together we can help make the world a better place by each doing our part. If even half of the people reading this website right now start to make an effort to be kinder to each other it would go a long way to healing our differences and in turn will start to heal the planet. Together we can help avoid the tough times we live in. We must make an effort to make the planet healthy for our children.
By participating with us on social media it will show a wider audience the kindness you are putting out everyday and in time others will do the same. People get inspired by others good deeds, the more you do, the more people will join the movement to be kinder to each other as well as pay attention to the planet as a whole.
We invite you to join us on both Facebook and Twitter to spread the kindness. Feel free to post a message on our Facebook page or tag us in a Tweet. You can also use our hashtags like #PlannedActsOfKindness #KarmaClub and #ItsMyPlanet.