Career Opportunities:
The Entrepreneurs Small Business Network is a network of multi-million, multi-billion dollar companies that have social responsibility programs & services that help individuals and businesses achieve their objectives. ESBN is part of the business and financial services outreach program of the nonprofit educational organization, 16 Things Kids Can Do.
We provide part-time, full-time career positions in business and financial services as licensed financial advisors working with students, employees, business owners, retirees and the unemployed in conjunction with schools, churches/temples, nonprofits, government agencies and businesses.
Additionally, we have outreach programs that combine business and financial services with many other disciplines including sports, health, education, real estate, entertainment, non-profit and public policy.
Our objective is to help everyone regardless of education, income, race, gender and country of origin to have an equal opportunity to save, protect, grow and invest in themselves, their family and their future.
Opportunity to earn six-figures in the first year based upon performance.
Internship Opportunities: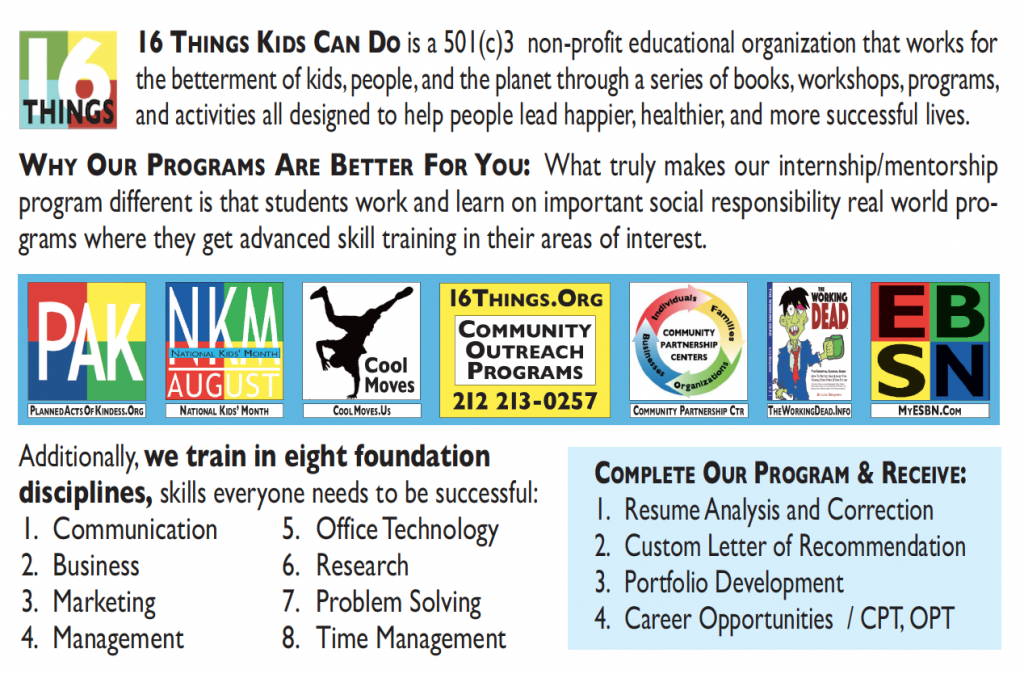 16 Things Kids Can Do is a non-profit educational organization. Our unique Mentorship & Internship programs give you real world experience working on national and global outreach programs including:
> Planned Acts of Kindness
> "National Kids' Month"
> 16 Things Book Series
> Cool Moves
> Community Outreach Educational Workshops, Seminars and Summits
> Business to Business Programs
> Entrepreneur & Business Ownership
> 16 Things TV Series
Because the following skills are needed to be successful, both professionally and personally, all majors receive training in eight foundation disciplines:
1. Communication
2. Business
3. Marketing
4. Management
5. Research
6. Office Technology
7. Problem Solving and
8. Time Management
When trainees successfully complete our program, they receive:
1. Resume Analysis and Correction
2. Custom Letter of Recommendation based on the programs you worked on
3. Portfolio Development
4. Career Opportunities
5. For international students we provide CPT and OPT support
We are seeking students that have the Desire, Determination & Coachability to make an impact for themselves and others. One of our goals is to transition students from their custom internship program to working within our organization on a full or part-time basis in service to others.
CPT and OPT opportunities are available for International students.

Dual Track Program:
Students that go through the internship program can learn and earn, and upon graduation they can have a career within our organization with the opportunity to earn six-figures in the first year out of college.
Background Information: